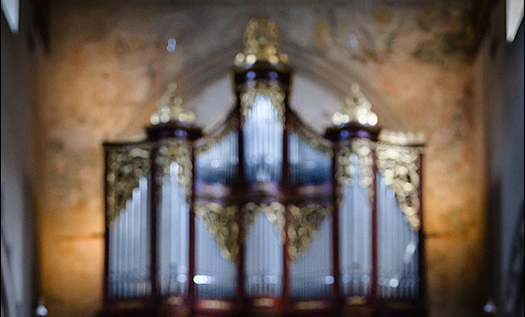 Click here for english version
«Élue»? C'est la question de l'élection, du choix qui s'impose à nous dans son acception la plus large: sans frontière de sens, sans limites d'harmonies. L'orgue – timide absent des musiques contemporaines- occupe ici une place centrale, il est le pilier central de la création. Le projet est né d'une rencontre entre Mallika Hermand, chanteuse, et l'écrivain Tristan Donzé. La démarche est spontanée, il s'agit pour l'écrivain de mettre en mots ce qui deviendra le support de l'expression lyrique de la chanteuse. Les textes parlent de vie, d'adoption, de bonheurs, des liens, de souvenirs, de foi, tout en pudeur, en n'imposant qu'un rythme, un matériau poétique de départ, parfois sans métrique, parfois contraignant. L'idée étant de revenir au moteur de la sensibilité, fondation de toute chose et à l'élan positif d'un projet artistique. La préférence des instruments, les harmonies de compositions, les formes des textes, le tout s'achalande simplement, sans fausses normes, en toute sincérité, recomposer la musique et le texte tout en respectant l'héritage culturel.
L'ensemble se compose d'un orgue, d'une guitare électrique ainsi que d'un violoncelle et d'une voix. Quatuor éclectique choisi pour la spécificité des sons et non pour autre chose.
Il s'agit d'une musique contemporaine travaillée, maîtrisée dans sa forme et son interprétation. Quelque chose de nouveau qui ne se force pas à l'être. L'objectif central du projet étant de jouer l'oeuvre dans l'amplitude sonore d'églises. «Élue» a pour thème central l'adoption, les textes racontent la biographie de la chanteuse, de l'enfance au monde adulte : les difficultés de vivre la différence, chercher le sens de tout cela, et le bonheur aussi d'aimer comme chacun.
English version
«The Chosen one» ? It begs the question as what it means to elect, to choose, in the wide sense of the term : without any limit in meaning, or in harmonies. The organ – shy absent in contemporary music – occupies here a key place, it is the central pillar of the creation. The project is born from the encounter of Mallika Hermand, singer, and the writer Tristan Donzé. The approach is spontaneous, the writer's purpose is to put into words what will become the medium for the lyric expression of the singer. The lyrics speak of life, adoption, joys, boundaries, faith, memories, with great modesty, only setting a rhythm, a poetical raw material, sometimes without metric, sometimes binding. The idea was to come back to the driving force of sensibility, foundation of every thing, and to the positive momentum of an artistic project. The preference for instruments, the compositions' harmonies, the lyrics' shape, all combines simply, without any fake norms, quite sincerely, recomposing the music and the lyrics while respecting the cultural heritage.
The ensemble consists of an organ, an electric guitar as well as a cello and a voice. Eclectic quartet chosen for the specificity of sounds and for no other reason.
It is a contemporary composition that is well worked, mastered in its shape and interpretation. Something new which doesn't force itself to be so. Only the work remains, in the greatness of the church. Compositions that leave nothing to chance, except for the beauty and the tragic of life.